Before my children were born, I dreamed of all of the ways that I would show them love. I knew that I would comfort them, dry their tears, offer encouragement, and be their safe place to land.
What I didn't know is how they'd offer me those same things in return.
I didn't know that waiting for Katie would teach me a level of patience beyond anything I could have ever imagined…
…that she would help me to learn to trust my gut….
…and that she would stretch my heart beyond all comprehension.
I didn't know that Matthew would teach me that I don't always know best…
…that he would melt my heart in a way that only a son could…
…and that he would help me to grow stronger.
I didn't know that on days like today, when I was the one with tears, that my babies would comfort me and be my safe place to land.
This parenting thing teaches me something new every day. Oh, how lucky I am to be their mother.
This post is linked up over at Things I Can't Say.  Thank you, Shell, for encouraging us all to share photos of our babies…this was so lovely.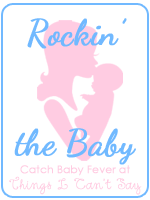 And speaking of Shell, I am so honored to be her featured BFF today over on Things I Can't Say. It would mean the world to me if you would stop by. I'm talking about how PBS has corrupted my child and I need your help!